Bathroom aids to safeguard against slips & falls
Slippery surfaces and high thresholds mean it's easy to lose confidence or have a slip in the bathroom. This is especially relevant if you struggle with your balance and mobility. To prevent such accidents from happening, you can put bathroom aids, rails and safeguards in place.
At Leinster Bathrooms & Stairlifts, we have a variety of bathroom aids to suit most levels of mobility. From bath lifts to grab rails and anti-slip accessories, our extensive range of mobility aids helps to make your bathroom the relaxing, safe and comfortable space it should be.
Visit our Dublin showroom, conveniently located in Artane, Dublin 5 to view our range of bathroom aids or call us on (01) 8532722.
Raises & lowers into the bath
Rechargeable battery powered
Prevents slips & falls
Available with or without a lid
3 height options
Simple to install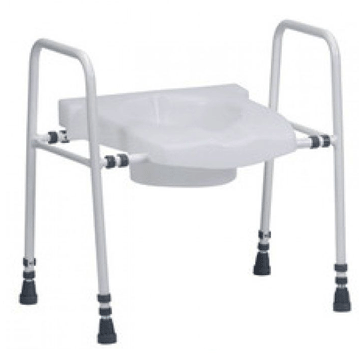 Sits over the toilet
Armrests for extra balance
Height adjustable 
For extra support

Prevents dropping onto the seat 

Height adjustable
For those who are bed-bound
Suitable for incontinence 

Easy to clean
Footrests for added security

Shower/ commodes available

Doubles as a portering chair
Extra stability when showering
Freestanding or wall-mounted
Fixed or rotating seat
Safely enter and exit the bath
Extra stability when bathing
Sits across the bath
Provides extra balance
No-slip coating
Stackable options available
Provide steady support

Fixed or suction options
Large range of lengths
For bathroom & general use
Height adjustable

Wipe clean surfaces
For heavier users
Maintains independent living
Wide range available
Choosing the right bathroom aid
A bathroom aid can make a huge difference to your independence at home. From frames which offer extra stability to raised seats which provide extra height and reduce the pressure on your joints when sitting and standing, investing in a bathroom aid can make a huge difference to independence, whilst safeguarding against slips and falls.
For example, if you would like to make it easier to get on and off the toilet, a raised toilet seat could be the solution you're looking for as a raised toilet seat makes it: 
Easier to get on without bumping or dropping onto the seat
Easier to get up without straining your back, hips or knees
More comfortable when sitting – particularity for your back and hips
The correct height for use following a hip or knee operation
If you find that you need a little extra support when using the toilet, then a toilet frame or raised toilet seat with a frame may be a better alternative, or you could even consider installing a grab rail. 
If you find that using the shower leaves you feeling vulnerable to a slip or fall, a shower seat is an ideal solution. For showers that have a threshold or lip, then a small platform step can add a little extra stability when entering or exiting. If your shower is in the bathtub, then you could invest in a swivelling bath seat which sits over the bathtub and allows easy and safe access to showering.
For those that like a soak in the bath, a bathlift is the perfect solution. These battery-powered seats elevate to allow you to access the bath easily, then lower you into the bath and recline to allow you to feel the full benefits of a nice warm bath. These can be coupled with a platform step or grab rail for extra security.
It is always advisable to consult an Occupational Therapist before deciding which bathroom aids to purchase. If you are interested in purchasing a bathroom aid, please contact us on (01) 8532722 or call into our Artane showroom.