Handicare 2000 Style
Our best-selling curved stairlift
The Handicare 2000 Style curved stairlift is a step up from the Simplicity model. The 2000 Style features the tightest track bends in the industry today and is custom built to suit your stairs. The Handicare 2000 Style comes with the Style seat which offers 3 different colour variations along with an optional powered swivel and powered footplate. The 2000 Style also features an optional heavy-duty kit which caters for weights up to 137kg (21.5st.)
If space at the bottom of the staircase is a concern, or the stairlift is blocking a door or hall, an optional powered hinge rail can be added that lifts and folds the track away when not in use.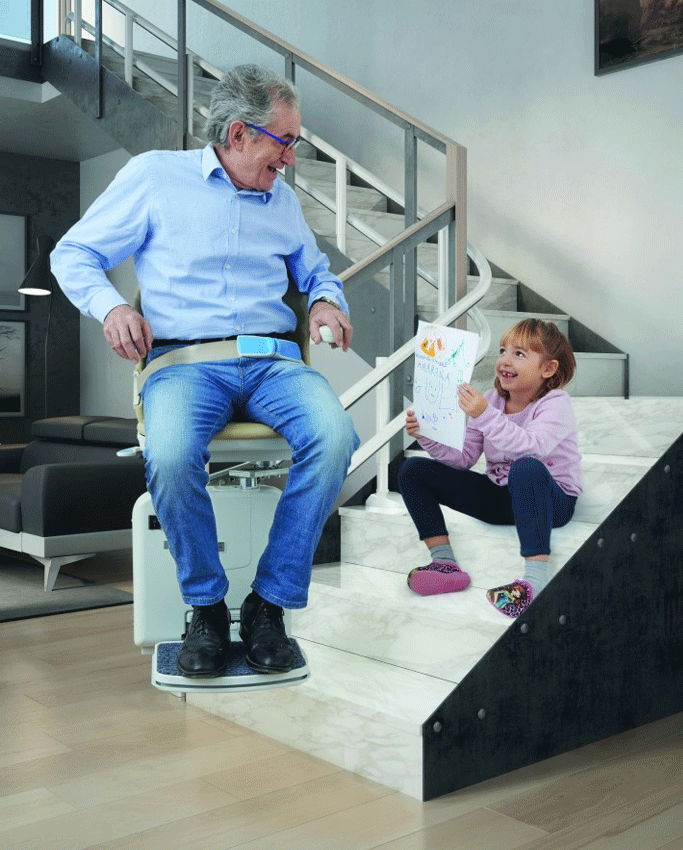 Handicare 2000 Style curved stairlift unique features
Handicare's Style seat allows you to combine the 2000 curved track system with optional powered features to fold the footrest after use or swivel the seat to enhance ease of exit. This stylish solution is tailored to your needs and your individual staircase, ensuring the best fit possible while also giving you a choice of upholstery colours.
Maximum capacity with:
Handicare 2000 hinged rail 115kg / 18 stone
Handicare 2000 with non-hinged rail 115kg / 18 stone standard rail and 137kg / 21½st with HD kit. The Smart seat also offers versions with additional arm spacers to increase the distance between the arms.
Powered swivel
All of our stairlifts come with a manual swivel seat as standard. If you choose the powered swivel option the seat swivel is operated by continuing to hold the toggle or joystick when you arrive at the top of the staircase. The seat will move automatically while the toggle / joystick is activated.
Powered footplate
All of our stairlifts come with a manual folding footplate as standard. If you choose the powered footplate option it will remove the need for you to bend down to fold or unfold the footplate. You can choose to have a footplate that folds automatically when the seat is folded and unfolded, or that is operated separately to the seat by a switch in the seat arm.
Powered hinge
The Handicare 2000 stairlift can also be supplied with an automatic hinged track which means when operating the stairlift from the toggle, the hinge will lift/lower automatically. This removes the need to bend down when lifting or lowering the rail.
Zero intrusion kit
The footplate of your stairlift will finish equal to the top or bottom of the stairs. There's no need to step off the footplate, all you need to do is swivelling your seat, making it easy to get safely on the landing. Zero intrusion eliminates the rail overrun, allowing you to install a Handicare 2000 stairlift with no modifications made to your home.
Choice of seat colour
With a choice of three colours (Ruby, Sand & White), the Handicare 2000's style seat's practical pre-formed upholstery provides a sturdy and resilient seat solution to suit almost any décor or style to blend seamlessly.
Perch seat
Ideal for those with knee or hip flexion problems, the Perch seat alleviates the need to sit down when using your stairlift.  The Perch seat can also suit narrow staircases where standard stairlifts may not fit.
Full body harness
Designed for customers who need extra support & available in 3 sizes. The curved design makes the harness more comfortable to wear and each harness comes with adjustable straps to tailor the harness to your needs.
What you get when you choose Leinster Bathrooms & Stairlifts
Recent stairlift installations
Browse some of our recent curved stairlift installations.
Handicare 2000 Style Coolock, Dublin 5 20/01/2021
Handicare Freecurve Leeson Street, Dublin 2 06/01/2021
Handicare Freecurve Swords Co. Dublin 09/12/2020
Handicare 2000 Style Dalkey, Co. Dublin 10/12/2020
Like what you see?
If you need a new stairlift, call us today on 01-8532722 to arrange a free no-obligation home survey. We cater for both private and grant assisted stairlifts and we can also advise on the grant process.