Quality. Comfort. Peace of Mind!
Up to 100% grants available
Lifetime warranty on stairlift motor
Friendly stairlift advice
Over 20 years experience in stairlifts
Never Struggle With Stairs Again – Get a FREE quote today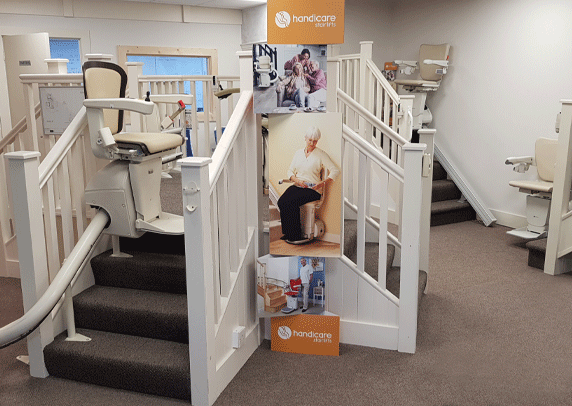 Ireland's largest stairlift showroom
If you're looking for a new stairlift but would like to see what options are available, visit our stairlift showroom conveniently located in Artane, Dublin 5. Featuring different Handicare stairlift models for all staircases on a make to measure basis. If you cannot visit our showroom, please call us on (01) 8532722 to arrange a free no-obligation home survey.
Which stairlift best suits my needs?
We offer a stairlift to suit every staircase, but with so many options it's often difficult to know where to start. At Leinster Bathrooms & Stairlifts, we take the hassle and confusion out of finding the right stairlift. As part of our superior service, we offer a free no-obligation home survey to ensure you get the right stairlift for your current & future needs.
View a stairlift installation in your area