Over 20 years of experience
At Leinster Bathrooms and Stairlifts, we have over 20 years of experience in installing stairlifts. During that time, we have forged lasting relationships with therapists who know that we are a trusted stairlift installer that delivers high-quality stairlifts for their patients.
Our stairlifts are installed by professionals who specialise in stairlift installations. They're equipped with numerous safety features, including a secure lap belt as standard to prevent accidents while getting on and off the stairlift, as well as while the lift is in use. 
Working with Occupational Therapists
A stairlift is designed to make everyday life easier for our customers. It is also about making everyday life safer as the majority of injuries in seniors occur in their own homes. 
At Leinster Bathrooms and Stairlifts, we take a holistic approach to our stairlift process. We work with the occupational therapist to ensure our customer gets the right stairlift for their needs, both present and future.
Along with a detailed survey of the staircase, we also discuss the physical and mental requirements of our customers to ensure we have as much information as possible when recommending a stairlift. 
Functional & aesthetically pleasing
Whilst a stairlift is designed for purely functional purposes, it is vital to consider the aesthetic qualities too.
The client must not resent the stairlift or feel it's an obstruction or eyesore.  Aesthetically pleasing designs create a positive attitude in the users and therefore lead to a quicker adaption to the product.
Handicare stairlifts are not only stylish but they also feature various rail and seat colours to ensure they match with virtually any decor.  
Our range of Handicare straight stairlifts are the slimmest on the market to ensure they are not an obstruction for other stair users. For staircases with bends, we use cutting edge 4D photosurvey technology to measure the staircase. This ensures our curved stairlifts are as tight as possible and follow the path of the stairs precisely.
Going that extra yard
When we install a stairlift, we always conduct a thorough assessment to ensure we have as much information as possible to determine which stairlift best suits the customer. It is therefore vital to get the Occupational Therapists input as with their guidance we can:
Choose the best option that enables safe transferring of users, and space for carers.
Ensure the safety features are suitable for both present and future needs
Understand if there are medical conditions, and what solutions are required
Give us a better understanding of our clients requirements both now and in the future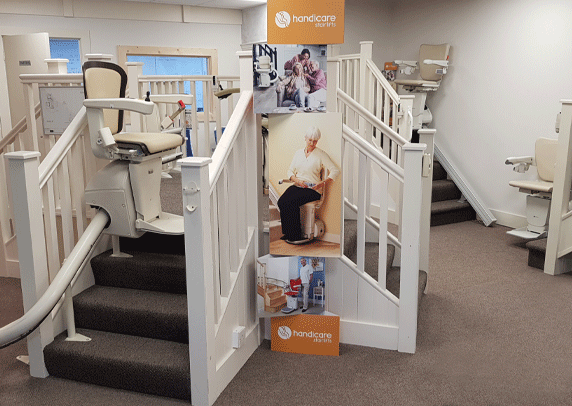 Ireland's largest stairlift showroom
At Leinster Bathrooms and Stairlifts, we have Ireland's largest stairlift showroom with 10 working stairlift models. If you wish to visit with your client, please call us to book an appointment. We would be delighted to show the various models available and unique features only available with Handicare stairlifts.
Our stairlift showroom is conveniently located at:
27 Butterly Business Park,
Artane,
Dublin 5
(next to Lidl).
Opening hours: 
Monday to Friday from 9am – 5pm
County council approved stairlift installer